Home /
Residential Services
Residential Services
Purchasing or building a home is an exciting, challenging and rewarding experience. Whether this is first time landscaping, adding a new planting, or revamping overgrown areas, Arlington Lawncare, Inc. would like the opportunity to work with you to imagine, design, install, and maintain the beauty of your environment.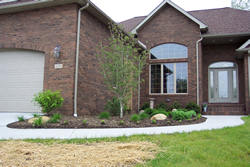 Arlington Lawncare, Inc. guarantees quality work utilizing quality products at very competitive rates. We install new lawns, trees, shrubbery, ornamental flower beds, and provide all season care. Our construction division can work all year round as weather permits. Now is the time to address any drainage needs your property may have.
Some of our residential specialties include: natural retaining walls, brick or stone walkways, water gardens and poolscaping. We would be pleased to offer a free estimate on any of your landscaping needs.