Why Choose Us?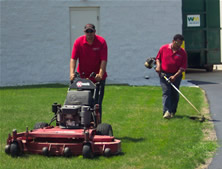 We employ a trained, professional uniformed staff
Weeding of beds is mandated;
Pruning is done three times per season & maintained monthly;
Mowing, Trimming, and Edging is maintained on a weekly basis.
We return phone calls on the same day
You, the customer, will have an assigned representative to contact concerning all issues;
Concerns are addressed immediately to your satisfaction.;
We manage ourselves
Two site inspections per month, one of which will be done by a Certified Turf & Ornamental Manager with a written report faxed or e-mailed to you;
We take a pro-active approach to ensure that problems do not get out of control.
Snow & ice is managed on a much larger scale
Route managers inspect your property any time there is a threat of snow or ice, with the authority to mobilize any and all of the equipment necessary to ensure your facility is open and ready prior to your staff or deliveries arriving;
We have over 150 plow trucks to ensure that your facility and docks are open on time;
We have 7 sidewalk crews to maintain your entranceways, should you choose;
We have over 20 Loaders and Skidsteers to handle heavy snowfall and/or stacking. They are strategically placed throughout the routes to ensure no backlog occurs;
We have 17 salt vehicles using liquid calcium and rock salt to help you reduce costly slips and falls, or worse yet a workman's compensation claim;
Our phones are staffed 24 hours a day during the winter season to ensure that all calls receive an immediate response.