Crack Sealing
The importance of sealing cracks is simple!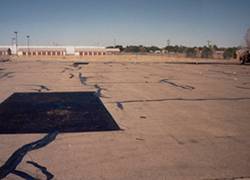 It keeps water, salt, gas, and ultraviolet rays from getting beneath the asphalt surface and damaging the base, which will eventually lead to further costly repairs.
We utilize hot rubber crack sealing. This will provide a lasting barrier which will seal out any damaging elements that may cause further damage. Hot rubber sealing will stay flexible. This insures adequate sealing of the cracks, even as the asphalt experiences normal shifts in position.
Crack sealing can be done any time of the year as long as the pavement is dry.